Makeup enthusiasts are always on the lookout for new techniques and trends to achieve a flawless look. Two of the most popular techniques that have taken the beauty world by storm in recent years are highlighting and strobing. These techniques involve adding shimmer and glow to the high points of your face, creating a radiant and youthful appearance. However, mastering these techniques can be a daunting task, especially if you are new to the world of makeup.
Creating Highlighting and Strobing for a Perfectly Radiant Look
Highlighting and strobing can transform your look by enhancing your features and creating a radiant glow. To master these techniques, you need to follow a step-by-step guide to ensure a flawless finish. Firstly, start with a clean and moisturized face, and apply your regular foundation. Next, identify the high points of your face, such as your cheekbones, brow bone, and the bridge of your nose. Apply a highlighter on these areas and blend it well to create a natural-looking glow. To accentuate your features, apply a slightly darker shade of highlighter below your cheekbones to create the illusion of depth. However, it's important to avoid overdoing it and creating a harsh, unblended line. Finally, set your look with a finishing powder to avoid any greasiness or shine. By following these steps, you can create a flawless look that enhances your natural beauty.
When enhancing your features, it's important to keep your face shape in mind. If you have a round face, apply highlighter along the top of your cheekbones to elongate your face. For those with a heart-shaped face, apply highlighter to the center of your forehead and chin to balance the width of your face. If you have a square-shaped face, apply highlighter along the temples and jawline to soften your features. Remember, highlighting and strobing are meant to enhance your natural features, not to completely transform them.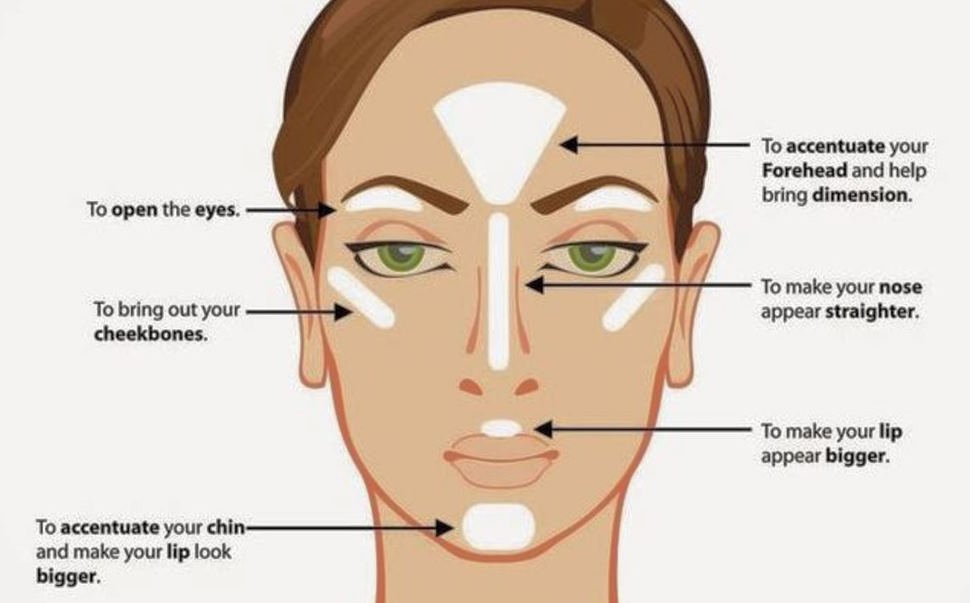 One common mistake to avoid is using too much product. It's easy to get carried away with highlighters and strobing products, but using too much can result in a greasy or glittery finish that does not look natural. Instead, start with a small amount of product and gradually build it up until you achieve the desired level of glow. Additionally, it's important to choose the right shade of highlighter that complements your skin tone. Avoid using shades that are too light or too dark for your complexion, as this can create an unnatural finish.
Highlighting and Strobing: Advanced Techniques for a Glamorous Glow
Once you have mastered the basics of highlighting and strobing, you can explore advanced techniques to take your look to the next level. One of the most important tips for achieving a natural-looking glow is to use a cream or liquid highlighter instead of a powder formula. This will create a more seamless blend and prevent any cakey finish. Apply the highlighter with a damp beauty sponge for a dewy, radiant finish.
Highlighting and strobing can also be used to correct imperfections, such as a flat nose or a round face. To make your nose appear slimmer, apply a highlighter down the bridge of your nose and a contour shade on the sides. This will create an illusion of a more defined nose. To create the illusion of higher cheekbones, apply a highlighter above your cheekbones and a contour shade below.
Another advanced technique is to use multiple shades of highlighter to create a multi-dimensional glow. Apply a champagne shade on the high points of your face, followed by a warmer gold shade on top for a sun-kissed finish. This will add depth and dimension to your highlight and create a more natural-looking glow.
Finally, it's important to keep your skin type in mind when using highlighting and strobing techniques. If you have oily skin, use a mattifying primer and avoid applying highlighter to your T-zone. For dry skin, use a hydrating primer and apply a cream highlighter for a dewy finish.
Tips for Maintaining Your Highlight and Strobe Makeup Look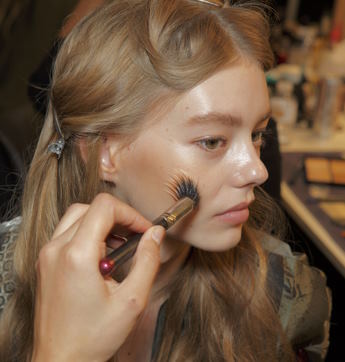 Once you have achieved your perfect highlighted and strobed look, it's important to maintain it throughout the day. One of the most important tips for maintaining your look is to use a setting spray after applying your makeup. This will lock in your highlight and prevent it from fading throughout the day.
At the end of the day, it's important to remove your makeup thoroughly to avoid clogged pores and breakouts. Use a gentle makeup remover and follow up with a cleanser to remove any remaining makeup and impurities from your skin. Avoid using harsh exfoliants or scrubs as they can irritate your skin and damage your glow.
In addition to removing your makeup, it's important to follow a skincare routine for healthy-looking skin. This includes cleansing, moisturizing, and protecting your skin from the sun. Use a gentle cleanser that does not strip your skin of its natural oils, and follow up with a moisturizer that is tailored to your skin type. Apply sunscreen to protect your skin from harmful UV rays that can damage your skin and fade your highlight.
Finally, remember to hydrate your skin from the inside out by drinking plenty of water and eating a balanced diet rich in antioxidants and nutrients. This will promote healthy-looking skin and enhance your natural glow.